2016 NEIBA All-Star Game Info (Updated 5-24-16)
Sunday June 5, 2016
6:00 PM at Fitton Field, Holy Cross (Worcester, Mass.)

Home Team: College Division (DII, DIII) - White Uniforms
Visitor Team: University Division (DI) - Road Uniforms
3:30 College Divison BP
4:15 University BP
5:05 College Infield
5:15 University Infield
5:35 Awards Ceremony
6:00 First Pitch

Click Here for Rosters & Info: 2016 NEIBA All-Star Game



2016 DIII World Series Teams
DIII World Series, Appleton, Wisc.
New England Region - Keystone
New York Region - Cortland State
Mid-Atlantic Region - St. John Fisher
Midwest Region - Wisconsin-Lacrosse
Central Region - Wisconsin-Whitewater
West Region - Trinity (Texas)
South Region - Emory
Mideast Region - La Roche
2016 DII World Series Teams
DII World Series, Cary, N.C.
East Region - Franklin Pierce
Atlantic Region - Millersville
Central Region - Central Missouri
Southest Region - Lander
South Region - Nova Southeastern
West Region - Cal Poly Pomona
South Central Region - Angelo State
Midwest Region - Southern Indiana

2016 DIII NCAA Regionals Info (5-23-16)
New York Regional (Falcon Park, Auburn, N.Y.) - Following Day 2 - May 21, 2016
FOLLOW HERE: D3Baseball.com
No. 1 Cortland (4-1)
Eliminated
No. 4 Susquehanna (4-2)
No. 2 Ramapo (2-2)
No. 6 Castleton (1-2)
No. 3 Frostburg State (0-2)
No. 5 Union (0-2)

Mid-Atlantic Regional (PNC Park, Moosic, Penn.) - Following Day 2 - May 21, 2016
FOLLOW HERE: D3Baseball.com
No. 2 St. John Fisher (4-0)
Eliminated
No. 6 Kean (4-2)
No. 5 UMass Boston (2-2)
No. 8 Penn State-Berks (2-2)
No. 3 Salisbury (1-2)
No. 4 Haverford (1-2)
No. 7 Salve Regina (0-2)
No. 1 Misericordia (0-2)

New England Regional (Eastern Conn. St., Willimantic, Conn.) - May 21, 2016
FOLLOW HERE: D3Baseball.com
No. 4 Keystone (4-0)
Eliminated
No. 3 Tufts (3-2)
No. 2 Oswego State (3-2)
No. 8 Salem State (2-2)
No. 6 Mitchell (1-2)
No. 1 Wheaton (1-2)
No. 5 Suffolk (0-2)
No. 7 Eastern Connecticut State (0-2)


2016 DII NCAA Regionals Info
East Regional (Franklin Pierce, Rindge, N.H.) - May 23, 2016
FOLLOW HERE: Franklin Pierce Championship Central
1. Franklin Pierce (3-1)
Eliminated
2. Southern New Hampshire (5-2)
3. St. Thomas Aquinas (2-2)
4. Felician (1-2)
5. Bridgeport (1-2)
7. Dowling (1-2)
6. Molloy (0-2)


2016 Conference Champions (5-15-16)
Conference races were decided throughout New England the past couple of weeks.
Congrats to the 2016 Conference champions!
DIVISION III
Suffolk (GNAC)
Salve Regina (CCC)
Eastern Connecticut State (Little East)
Salem State (MASCAC)
Castleton (NAC)
Mitchell (NECC)
Tufts (NESCAC)
Wheaton (NEWMAC)
DIVISION II
Southern New Hampshire (NE-10)
DIVISION I
Princeton (Ivy)

NEIBA Announces "Player of the Week" Award (3-7-16)
NEIBA has begun naming Players and Pitchers of the Week in each division, starting in March of 2016. Please check the PLAYERS-OF-THE-WEEK link above.

Pete Frates Strike out ALS Wristbands
A message from Mike Gambino, Boston College:
"We are hoping to make Pete Frates' cause of striking out ALS the cause of baseball and we are hoping this movement starts in New England. Pete is a New England kid through and through and we are first and foremost a New England program. Having this national movement start with our group would be awesome.
"The goal would be to have it start in New England the second to last weekend in April and have it finish the second to last weekend in May with all the ACC schools wearing the wristbands for the final series. MLB and the ABCA have already said they are on board.
"You can purchase the wristbands off Petefrates.com or just send the file you received via email to any embroider you use and they can make them up. You probably won't have the program needed open the file on your computer but companies that do embroidering will.
"I thank you all for everything you have already done for Pete and this mission as well as for helping to launch this next initiative. Greg DiCenzo and Matt Noone are also playing a big role in helping to launch this so I want to thank them as well."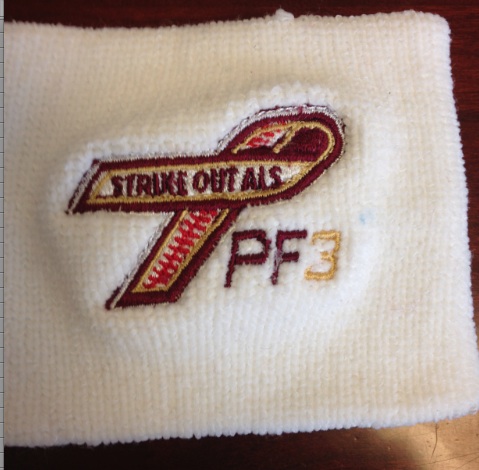 NEIBA Updates (Updated 2-1-16)

• Mike Connolly (Bowdoin College) is currently soliciting nominations for the 2016 NEIBA Awards.

• John Susi (Western Conn. St.) is currently accepting nominations for the inaugural NEIBA Hall of Fame Class. The deadline for nominations if Feb. 5, 2016.
• A number of schools still have unpaid dues. Please note that schools are not eligible for polls, all-star games, and NIEBA awards if the annual membership is not renewed.



NEIBA General Meeting (Summary)
Friday, Jan. 22, 2016 - 12:00 p.m.
World Coaches Convention - Mohegan Sun, Uncasville, Conn.
• The annual meeting of the membership was very well attended, and the association's annual business was conducted under the direction of NEIBA President Ken Harring (UMass Lowell) and Secretary Matt Noone (Babson College).

• The 2015 NEIBA Awards were presented at the meeting and all three winners were in attendance and recognized in front of the group. Congratulations!
Dan Gooley (Quinnipiac & Hartford) - Butterfield Award
Joe Cacciatore (Umpire) - Andy Baylock Distinguished Service Award
Todd Carroll (M.I.T.) - Kevin Burr Asssistant Coach Award
• Joe Cacciatore (Umpire) spoke about 2016 rules clarifications
• Mike Gambino (Boston College) welcomed ideas on a possible ALS awareness weekend in May.
• Many coaches from NEIBA were honored to be presenters on stage at the World Coaches Convention:
Mike Leonard (Bates)
Josh MacDonald (UConn)
Andy Baylock (UConn)
Travis Beaursoleil (Mitchell)
Justin Blood (Hartford)
Matt Noone (Babson)
Steve Trimper (Maine)
Conor Burke (Maine)
Nick Derba (Maine)
Greg Sullivan (Boston College)
Jayson King (Franklin Pierce)
Convention Syllabus - with Speaker Outlines
Mohegan Sun Coaches Convention Website